About Hanson Chambers
Hanson Chambers was founded by Tim Anderson, John Doyle and David Quick, initially leasing half of the present building in Carrington Street. In 1979, they purchased the whole building and were joined by Derek Bollen QC, John Mansfield and Jonathan Wells. It was at this time that the decision was made to name the chambers after South Australia's second Chief Justice, Sir Richard Hanson.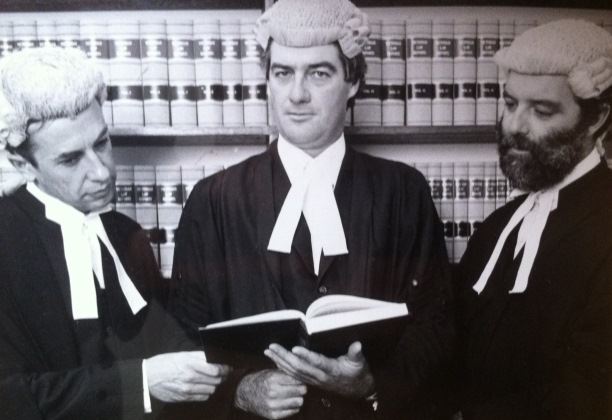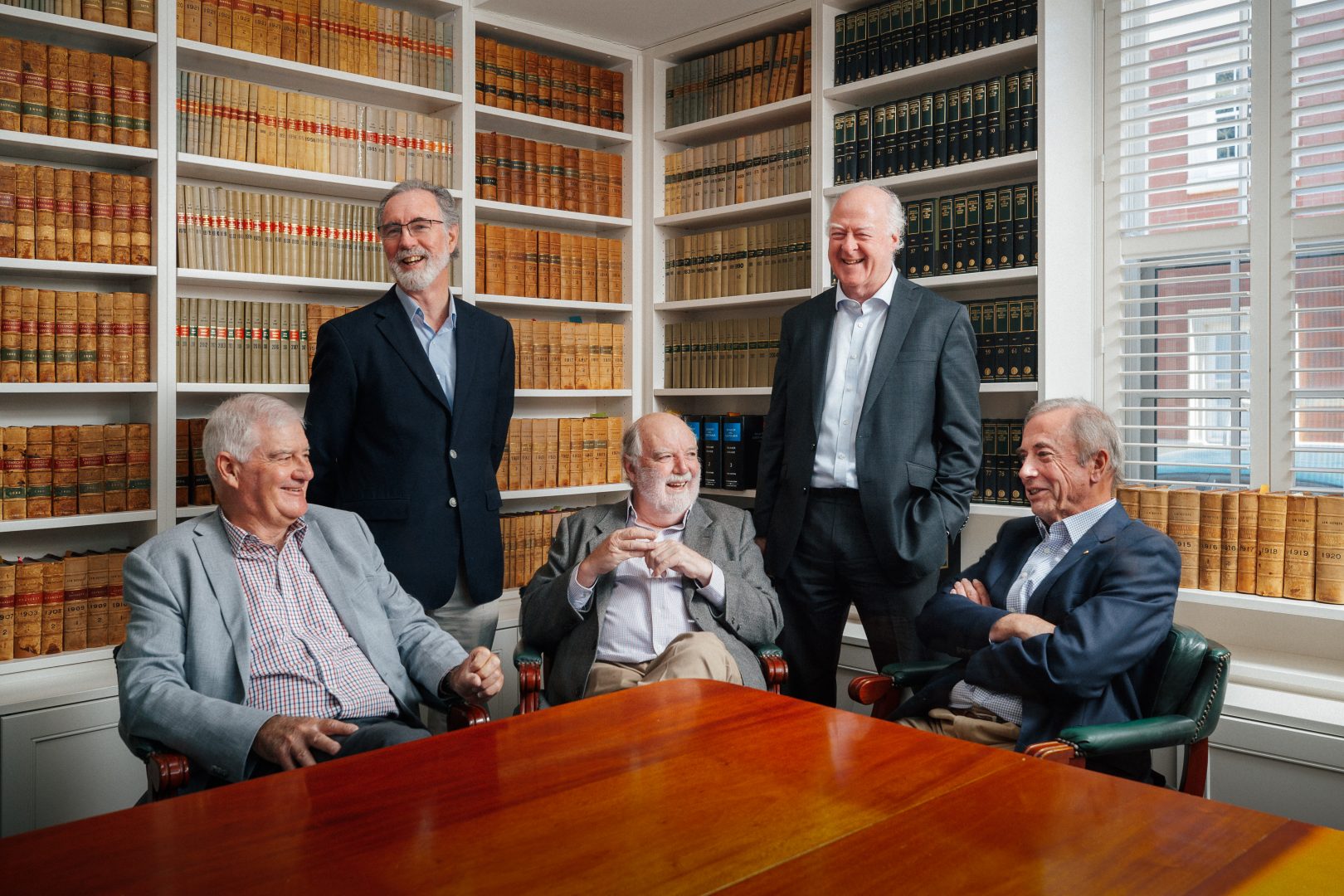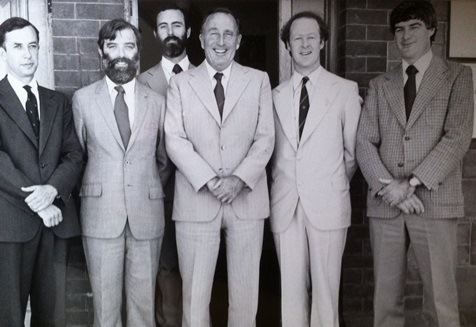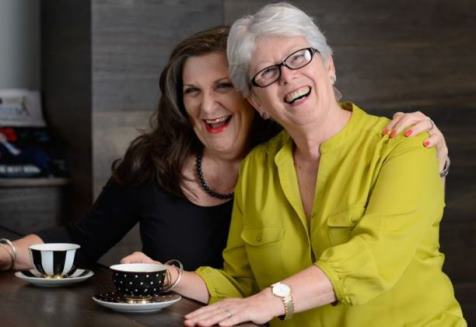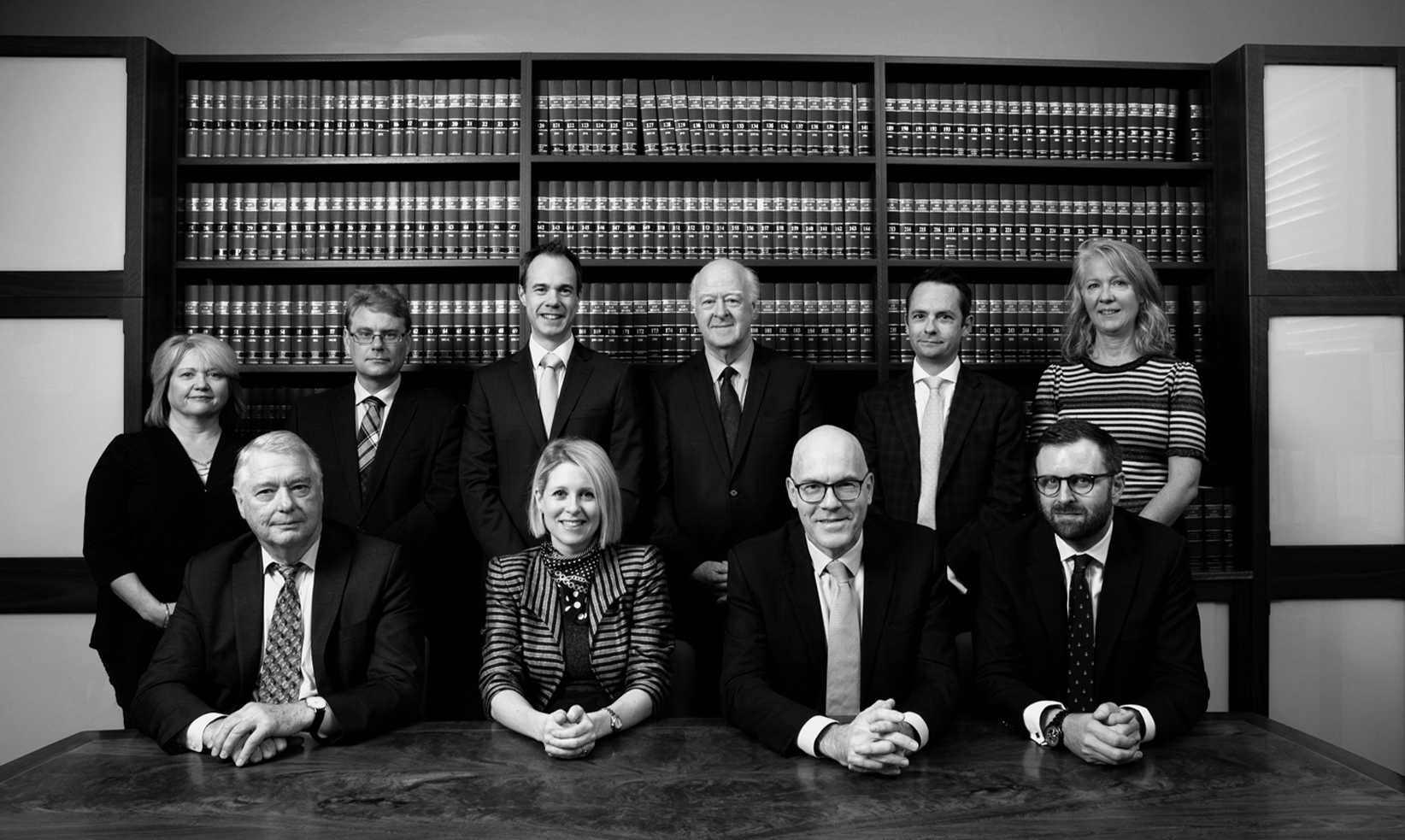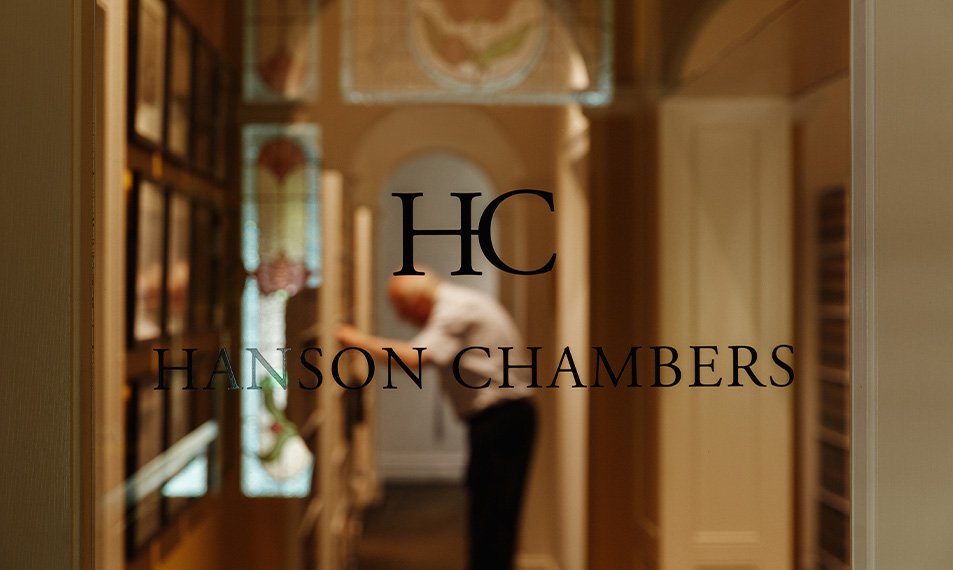 Former Members of Chambers
The Hon Tim Anderson QC
Hanson Chambers 1977-2003
Justice of the Supreme Court of South Australia 2003-2014
The Hon John Doyle AC QC
Hanson Chambers 1977-1985
Solicitor-General of South Australia 1985-1995
Chief Justice of South Australia 1995-2012
David Quick QC
Hanson Chambers 1977-2001
The Hon John Mansfield AM QC
Hanson Chambers 1979-1996
Justice of the Federal Court of Australia 1996-2016
The Hon Derek Bollen QC 
Hanson Chambers 1979-1982
Justice of the Supreme Court of South Australia 1982-1997
The Hon Richard White QC
Hanson Chambers 1982-2004
Justice of the Supreme Court of South Australia 2004-2013
Justice of the Federal Court of Australia 2013-present
The Hon Geoffrey Eames AM QC
Hanson Chambers 1986-1987
Justice of the Supreme Court of Victoria 1992-2007
Justice of the Victorian Court of Appeal 2002-2007
Acting Justice of the Supreme Court of the Northern Territory 2007-2009
Chief Justice of Nauru 2010-2014
The Hon Justice Tim Stanley 
Hanson Chambers 1989-2011
Justice of the Supreme Court of South Australia 2011-present
The Hon Justice Kevin Nicholson 
Hanson Chambers 2003-2006
Judge of the District Court of South Australia 2006-2012
Justice of the Supreme Court of South Australia 2012-present
The Hon Justice Chris Bleby
Hanson Chambers 2004-2014
Crown Advocate for South Australia 2014-2016
Solicitor-General of South Australia 2016-2020
Justice of the Supreme Court of South Australia 2020-present
Justice of the South Australian Court of Appeal 2020-present
The Hon Justice Michael Evans 
Hanson Chambers 2004-2010
Crown Advocate for South Australia 2010-2014
Crown Solicitor for South Australia 2014-2016
Chief Judge of the District Court of South Australia 2016-present
Julie von Doussa 
Hanson Chambers 2007-2008
Sir Richard Hanson
Early Life
Sir Richard Davies Hanson (1805-1876) was born on 6 December 1805 in London, the second son of Benjamin Hanson, fruit merchant. Educated at a Nonconformist school in Melbourn, Cambridgeshire, he was articled to the Methodist John Wilks, admitted an attorney in 1828 and practised briefly in London.
In the 1830s, Hanson promoted the province of South Australia. In 1836 he applied for appointment as the first judge in South Australia, but was overlooked for the position.
Early in 1837, Hanson joined the Globe as a political critic. In 1838 he went with Lord Durham to Canada as assistant commissioner of inquiry into crown lands and migration. In 1840, Hanson was appointed by the New Zealand Company to draft legal documents and seek investors to buy land orders. He was appointed Crown Prosecutor for the Southern Districts in 1841, but left New Zealand in 1846.
Arrival in South Australia and Legal Practice in Adelaide
In July 1846, Hanson arrived in Adelaide. On 7 October 1846, he was admitted as a barrister, solicitor, attorney and proctor in the Supreme Court of South Australia. With an office in King William Street he started a practice. In 1849, he appeared in over a hundred cases, but in December was thrown from his gig, damaging his hip permanently. He appeared in court on a crutch after three months, and made Richard Hicks his partner.
On 29 March 1851 he married Ann, née Hopgood, aged 24, the widow of Captain Scanlon of New Zealand.
Parliamentary Career and Premiership
In 1851, Hanson stood as a voluntaryist for Yatala in the first part-elective Legislative Council but his victory was disputed. In June he was appointed acting advocate-general, with the right of private practice and "without the obligation hitherto required of voting with the government". Hanson drafted and introduced the Education Bill with aid for school buildings and teachers' stipends and became a member of the first Board of Education. In 1852 he had a leading role in the passage of the Bullion Act, the Grand Jury Abolition Act and the District Councils Act, the first of its kind in Australia designed to encourage local democracy. On the select committee for drafting the colony's constitution in 1853 Hanson proposed a lower house with a low franchise and a nominee upper house on trial for nine years. He was criticized for abandoning "pure democracy" but argued that his plan was as much as the Colonial Office would accept. This constitution was rejected in London and in 1855 Governor Sir Richard MacDonnell arrived with a decided preference for a unicameral legislature. He was persuaded by a newly-elected council to endorse a bicameral constitution: an assembly to be elected by manhood suffrage under secret ballot and the "cross in the square" system, and a council guarded by householding voters. This constitution was sent to London in January 1856 and received the royal assent in June. When the news reached Adelaide in October, Boyle Finniss formed a ministry with Hanson as his attorney-general.
On 9 March 1857, at the first elections under responsible government, Hanson won the second of six seats for the City of Adelaide. The Finniss ministry fell on 21 August and after two short governments Hanson formed a ministry on 30 September; with some reconstruction it lasted until 9 May 1860. He had introduced forty-six bills as advocate-general and twenty-one as attorney-general. He employed only one clerk but was seldom absent from the legislature, served on many select committees, helped to form the parliamentary and law libraries and made his home a meeting place for politicians in need of advice. Hicks attended to much of his court work, but prominent cases like his defeat of the Anglican claim to a cathedral site in Victoria Square made Hanson the acknowledged leader of the South Australian Bar.
Chief Justiceship and the Boothby Affair
Sir Charles Cooper resigned as Chief Justice and was replaced by Hanson who was graciously farewelled from the House of Assembly on 21 November 1861.
The appointment was challenged by Judge Benjamin Boothby, who believed that he would automatically succeed Cooper and that neither the governor nor Executive Council could appoint anyone else. In chambers, Boothby reiterated this claim, denying the right of Hanson and Edward Gwynne to sit in the court or to pass opinion on the dicta of the "Senior Judge". When both Houses sent addresses to the Queen for Boothby's removal, Hanson had opposed them declaring that "we have a Judge against whose character and integrity not one syllable is brought … It would be wrong to punish [him] for expressing his conscientious opinion on the validity of laws, which it is his sworn duty to do".
One of Hanson's first duties in the Supreme Court was to inquire into the validity of local legislation, much of which he had drafted. He recommended various amendments to several Acts, "not because he considered them necessary but merely to set the minds of people at rest". Gwynne sometimes deprived him of a majority in the court, especially in cases connected with the Real Property Act. Hanson had been sceptical about its validity in 1857 and redrafted "Robert Torrens' clumsy and unprofessional attempt to improve the law"; when it was passed he advised the governor to assent to it on the Queen's behalf, and worked hard to simplify its operation.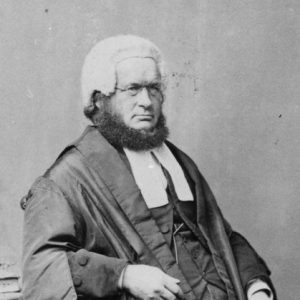 Sir Richard Davies Hanson
The distinction between the letter of the law and its intention was important to Hanson and he expounded it clearly in his minority judgment in Dawes v Quarrel, when it was decided that the South Australian legislature had no "power to establish courts", as these words had been omitted from the Constitution Act. Hanson argued that, as the Act specifically established representative institutions and the making of laws for peace, order and good government, it was "somewhat singular that the Imperial Parliament should have deliberately deprived South Australia, under the pretence of providing for its better government … of creating Courts of Justice … I must confess this seems to me to raise a very strong presumption against the construction now contended for". In contrast, Boothby deemed the Constitution Act invalid, and consequently found fault with a large and indefinite number of Acts passed by the colony's legislature. The imperial parliament came to the rescue with validating Acts but they had little effect on Boothby. To him the colony's entire legal system was different from that of Britain and therefore repugnant to the laws of England.
By 1866 the administration of justice was in confusion and uncertainty. Boothby was accused in the press of bullying counsel, dictating to juries, quashing informations, discharging prisoners in criminal trials and bringing equity cases to a standstill. Petitions for his removal poured into parliament and both Houses sent addresses to the Queen, but were advised that the only remedies were by appeal to the Privy Council or "to remove him at your own responsibility".
In the Full Court on 12 April 1867, the Chief Justice declared that "the remarks of my learned colleague have ceased to annoy or affect me in any way because I feel … that by dwelling upon his fancied rights and fancied wrongs, he has incapacitated himself judicially from any reliable conclusions … and therefore I look upon them as I should any other utterance founded upon mental or moral illusion". Four days later Hanson and Gwynne conferred and adjourned the sittings until next term: see England v Coulthard (1867) 1 SALR 9. Boothby dissented and tried in vain to conduct the Court by himself. On 24 April, Hanson and Gwynne wrote to the governor seeking remedial measures but disclaiming any personal motives or inability to overcome obstructive difficulties. Boothby was given time to prepare his defence before trial by the governor and his Executive Council. He was found guilty of misbehaviour and "amoved" from office on 29 July.
Hanson the Author
Despite his "steady flow of carefully measured words, weighted with calm and logical reasoning", Hanson often claimed that he turned to law to please his father but wished he was rid of it, especially its "archaic procedures" such as public executions. A voracious reader in his leisure, he turned readily to science and theology and was moved to share his knowledge. He believed in inevitable human progress and abhorred the mental barriers that hindered it. He saw the Bible as "God's main instrument in the education of the world" only if read with a spirit of inquiry instead of infallible authority. Between 1849 and 1860, he gave several public lectures on this theme and on law in creation, where he rejected Lamarck as "absurd" but confessed attraction to the theories of Charles Darwin, however incomplete.
Hanson published a number of books on theology, including Law in Nature and other Papers (1865), Letters To and From Rome, AD 61-63 (1873), The Apostle Paul and the Preaching of Christianity in the Primitive Church (1875) and The Jesus of History (1869), in which he succeeded in "fusing the evangelical narratives into a clear and consistent whole", rejecting the miracles but judicially interpreting the record "as an inquirer before the fall of Jerusalem".
End of Life
On 9 July 1869, Hanson was knighted by Queen Victoria at Windsor Castle after at least four recommendations from the governors, Daly and James Fergusson. On return to South Australia, he acted as governor from 18 November 1872 until April 1873, when Governor Anthony Musgrave arrived. Hanson gave enthusiastic support to the founding of the University of Adelaide and, when the Act was passed in 1874, its councillors elected him chancellor and invited him to give the inaugural address on 25 March 1876. It was prepared but not given. He died suddenly of heart disease in his garden at "Woodhouse", in the Adelaide Hills, on the 4 March 1876, and was buried with a state funeral.
Sources
"Hanson, Sir Richard Davies (1805-1876)", Australian Dictionary of Biography, National Centre of Biography, Australian National University.
Matthew Stubbs, "Sir Richard Hanson, by Greg Taylor" (Book Review) (2014) 35 Adelaide Law Review 195.